Source - bit.ly/1Bd7z5l
Being a woman executive in the global business world, dominated mostly by men, can surely be a daunting task. It is not enough that you need to manage everything at your work place, but you also need to manage and take care of everyone at your house as well. But there are women out there who are balancing both worlds effectively and giving men a run for their money.
Doing It All Effectively
Source - bit.ly/1FXNlRI
Being a woman executive myself, many people have asked me that how do I manage to do it? Well, there are no clear answers...you stay focussed and get it done. The key is to get adequate rest, be prepared, never be late, organise everything at home and make every member in your family do their part. I agree that there will be some bad days when nothing will seem to work, but you need to stick with it.
The fact is women have a much harder time in advancing their career and moving forward in the corporate world. We earn much less than our male counterparts in the same designation and are recruited for only a handful of leadership roles. We experience harassment and discrimination in large numbers and are expected to take care of the house and our careers simultaneously.
Getting Things In Line
But now it's time that we take charge and make things right. Here I am going to talk about the top 5 thing that you can do as a female executive to avoid trends and stereotypes, fight bias and encourage gender equality in your workplace-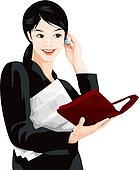 Source - bit.ly/1Aub2wf
1.You need to start by reading the article titled "
Madam C.E.O., Get Me a Coffee
" by Sheryl Sandberg and Adam Grant that was featured in the New York Times. Erin Krehbiel, President at Global Benefits Firm, says "Office Housework or as I like to refer to it: the admin trap. Women are far more likely to volunteer for training, mentoring and last-minute client requests."
2.Identify the "Power Seat" and use it to your advantage. Krehbiel says "I recently came across a blog post about where you sit at a meeting and how it affects the room/team, etc. Unconsciously, I have been using the tips for years, but the explanation was fascinating. Since I tend to come off as a decision maker in control, I have learned that sitting within the group vs. at the head of the table is a great tool to avoid "witch" distinction."
3.Erin Krehbiel believes that women need to share their voice and actively join the "the cause" through engagement with companies such as 2020 Women on Boards. She adds "It DOES matter! Boards of directors make decisions that impact all of us and the lack of diversity in general is shocking."
Source- bit.ly/1MxS54r
4.One of the worst things about female executive and women in the workplace in general is that we have developed a bad reputation of not supporting or standing up for each other. The President of Global Benefits Firm says "Men have done a tremendous job joining together and taking control. That might explain the divide in top corporations where females occupy only 5% of CEO positions."
5.It is time to accept and embrace change for our own development. I believe that all women need to get rid of their perfectionist tendencies. We need to have a more open mind towards change and be willing to take risks. Krehbiel says "I have practiced this skill for years and it has benefitted me both personally and professionally. I now feel excitement build when a large opportunity rears its head."
So there are my tips for making things better at your workplace and at your won house. If you would like to add some of your own tips to the discussion then feel free to comment below. I would love to hear what you have to say.
Article Source- linkd.in/1L6lS6O