Hundreds of thousands of people, both young and adult, are now pursuing academic courses online and earning digital degrees to either pursue higher studies or to advance their careers. Are you also planning to go for online management courses to get a career boost? Let's take a look at how technology is a impacting education and if it can actually help you...
EdTech Is Essential
The truth is technology is rapidly capturing the academic system. At present, various
educational technology tools
have entered the classrooms and is helping educators to create a better learning environment for our students. You can now find tablets in kindergarten, high schools students participating in virtual classrooms, and adults pursuing online graduate degrees. With adequate funding coming in, it is expected the reach and impact
technology in education
will expand further. But many critics are wary about how technology is affecting our students.
Funding Education Technology
Venture funding for EdTech had reached around $1.87 billion dollars last year. Experts forecast that the figure will rise to almost $2 billion in 2015. I believe this is a significant increase from only $385 million back in 2009, when the venture capital database and angel investment database firm CB Insights began analysing education funding.
Rob Hutter
, managing partner at venture capital firm Learn Capital, said "The education space is attractive because it's a big and important part of the economy. The edtech companies that get funding can be important 50 years down the line, and not just in a few years." Robert Sun, founder of online maths website firstinmath.com, thinks it is actually a good business to invest in. The company has expanded 20 per cent every year in the past 6 years and does not require any external investment. Sun said "There's a high profit margin with no warehouses and not much cost except for research and development."
Is Technology In The Classroom Creating Challenges?
According to a report, it was found that in 2013 schools spent almost $13 billion on high tech devices worldwide. It is estimated that global spending on EdTech will rise to $19 billion by 2019. However, many schools are finding it difficult to find funding. With growing number of US schools seeing cuts in budgets, many of them are now issuing bonds to get the money for using technology in schools. But that might not be the most ideal solution. President and CEO of McGraw-Hill Education, David Levin, said "Some of the challenges schools have is that devices progress quickly and reach obsolescence before the bond issues mature."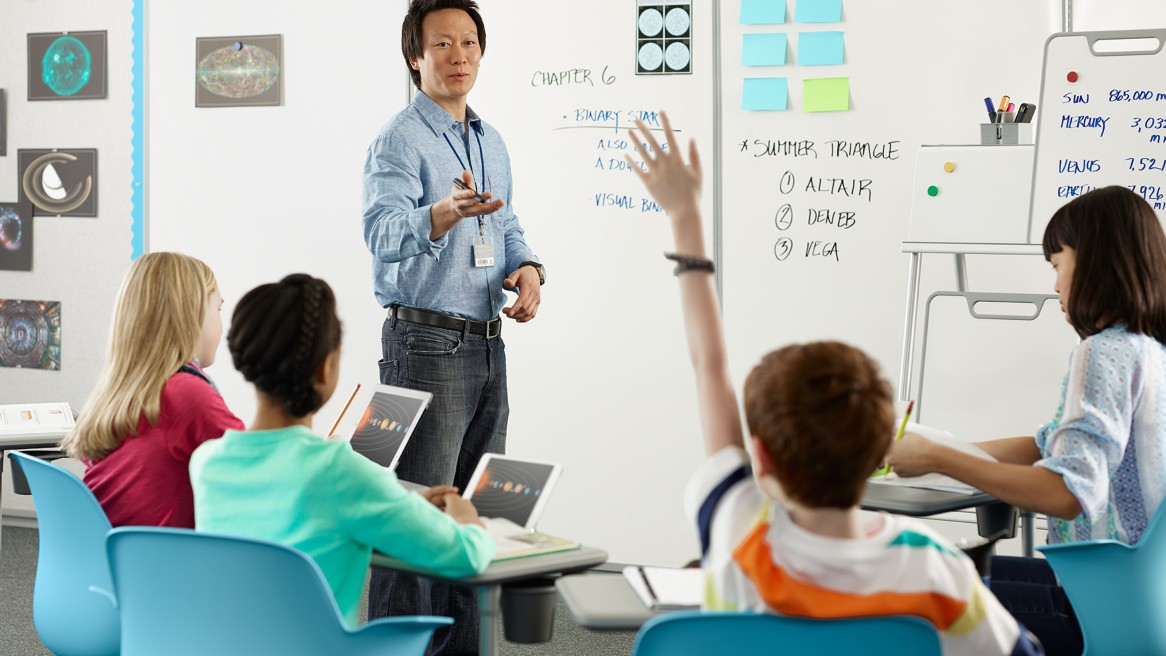 Moreover, there are some academic experts who have started to question effects of using technology in the classroom as well. Art Langer, academic director of the Executive Masters in Technology Management at Columbia University, said "Education technology is not yet a proven solution for learning, and limits the experience of education and human interaction." Many other educators believe that technology is actually proving to be a distraction than an academic resource.
Kentaro Toyama
, professor at the University of Michigan, said "If you look over the shoulder of any child with a smartphone, they're mostly not using education apps but playing Angry Birds. Why should we expect that more of this kind of technology in and of itself will help our children?"
Educational Technology Is Here To Stay
But there are many other educators who are singing praises for education technology. Wendy Eiteljorg, director of education technology for pre-K to grade 12 at the Shipley School in Penna, said "
Education technology
allows students to share their work and collaborate beyond their schools walls. It's also providing alternative ways for students to participate in discussions."
No matter what, it seems to me that educational technology is here to stay. Chip Paucek, CEO of public tech firm 2U, said "Education tech businesses are providing value for investors. And as long as you have high quality outcomes, there will continue to be a market for firms like ours."
There is no denying that the use of technology in education is helping educators teach better and making learning more engaging and interactive for our students. In fact, as more and more universities and business schools are now offering online programmes and increasing number of employers accepting online degrees, the demand for online education is increasing further. You can now find several
accredited online management courses
that will not only offer you an enhanced learning experience, but also enable you to get the best career opportunities.
Do you think technology in the classroom is beneficial for education? Share your thoughts and ideas with me by commenting here.
Atricle source - for.tn/1GtpE2e